We are proud to present to you one of the new features of the latest version of Rdiffweb software, our free open-source backup management software which, thanks to a simplified web interface, allows you to easily browse archives, restore them as needed and manage user access in just a few clicks. It is now possible to access detailed online documentation that will guide you through its use and answer all your questions. Here are a few reasons why you will appreciate this improvement
Easy Appropriation of Rdiffweb
The documentation accompanying and describing our Rdiffweb software already existed, but let's face it, it was far from being optimal. Generated from GitLab software, it was very incomplete and did not have easy entries to quickly find the information you were looking for. We decided to remedy this by opting for documentation now produced with Sphinx, a documentation generator known for clarity of information and ease of access. Thanks to this professional documentation, you will be able to quickly take ownership of Rdiffweb, both in terms of its installation and configuration.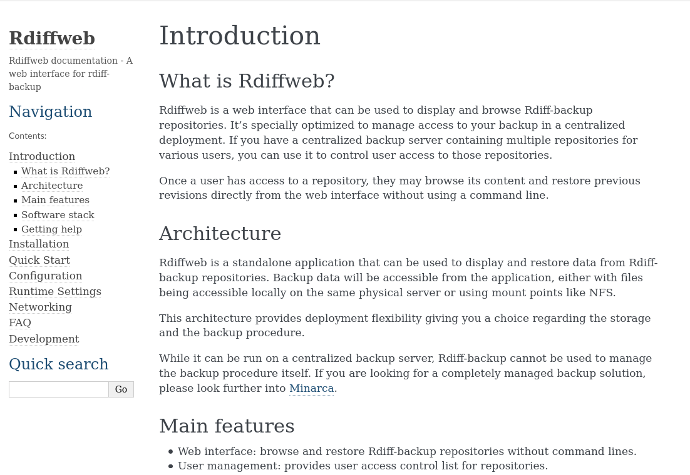 Online Access to Up-To-Date Documentation

The complete documentation generated with Sphinx is directly accessible online in one place. This offers the advantage of accessing it at any time. Sphinx also provides information updates in real time. Each time we add new elements, they are immediately incorporated into the documentation, ensuring you have access to constantly updated information. As we are constantly in the process of improving our software, this assures you that you will always have access to the most recent version of the software's information.

Detailed Information at Your Fingertips

The ideal solution for creating documentation that resembles an online user manual, Sphinx also ensures the most optimal content structuring. The table of contents is clearly identified with detailed indexing, and you also have a search tool to directly go to the information that interests you. We also pay attention to properly documenting all possible options. For example, all configuration parameters are detailed, ensuring that you find the right information for your situation. You will appreciate the intuitive reading of the information.
Conclusion
Having comprehensive, online and easily searchable documentation in place is a big improvement for Rdiffweb users. By adding this functionality, both computer experts and those with little technical knowledge are guided to quickly grasp this popular software for the simplified visualization of data archives… You risk adopting it for a long time!